East-Work provides services in the following fields:
Employee leasing and recruitment from Eastern Europe (outside the European Union). We provide our customers with motivated and highly skilled workers. Our services cover the following industries: food, production, processing, agriculture, horticulture, furniture, construction sector, etc.
How we work
We operate in a comprehensive manner, as we take care of all the formalities related to the workers' employment and stay in Poland.

We generate profits by reducing the human resources costs and increasing market competitiveness.

We broaden your horizons, therefore, our cooperation will enable you to extend your company's flexibility.
A simple begining lead to big ideas
- We started small but grew quickly
News
Samsung Polska musi szukać pracowników na Ukrainie.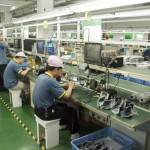 Samsung w Polsce będzie zatrudniał osoby zza naszej wschodniej granicy. Rozpoczną oni pracę w znajdującej się pod Poznaniem f…